Hepatitis C
Hepatitis C is a viral infection that causes liver inflammation, sometimes leading to serious liver damage. The hepatitis C virus (HCV) spreads through contaminated blood.
Symptoms
Long-term infection with the hepatitis C virus is known as chronic hepatitis C. Chronic hepatitis C is usually a "silent" infection for many years, until the virus damages the liver enough to cause the signs and symptoms of liver disease.
Signs and symptoms include:
Bleeding easily
Bruising easily
Fatigue
Poor appetite
Yellow discoloration of the skin and eyes (jaundice)
Dark-colored urine
Itchy skin
Fluid buildup in your abdomen (ascites)
Swelling in your legs
grey-coloured faeces
Weight loss
Confusion, drowsiness and slurred speech
It is not usually easy to diagnose hepatitis at an early stage as it presents little or no symptoms; yearly screening of hepatitis is therefore important.
Transmission
The hepatitis C virus is a blood borne virus. It is most commonly transmitted through:
injecting drug use through the sharing of injection equipment;
the reuse or inadequate sterilization of medical equipment, especially syringes and needles in healthcare settings;
the transfusion of unscreened blood and blood products;
sexual practices that lead to exposure to blood (for example, among men who have sex with men, particularly those with HIV infection).
Hepatitis C virus can also be transmitted sexually and can be passed from an infected mother to her baby; however, these modes of transmission are less common.
Hepatitis C is not spread through breast milk, food, water or casual contact such as hugging, kissing and sharing food or drinks with an infected person.
Risk factors
Your risk of hepatitis C infection is increased if you:
Are a health care worker who has been exposed to infected blood, which may happen if an infected needle pierces your skin
Have ever injected or inhaled illicit drugs
Have HIV
Received a piercing or tattoo in an unclean environment using unsterile equipment
Received a blood transfusion or organ transplant before.
Were born to a woman with a hepatitis C infection
Were born between 1945 and 1965, the age group with the highest incidence of hepatitis C infection
Complications
Hepatitis C infection that continues over many years can cause significant complications, such as:
Scarring of the liver (cirrhosis). After decades of hepatitis C infection, cirrhosis may occur. Scarring in your liver makes it difficult for your liver to function.
Liver cancer. A small number of people with hepatitis C infection may develop liver cancer.
Liver failure. Advanced cirrhosis may cause your liver to stop functioning.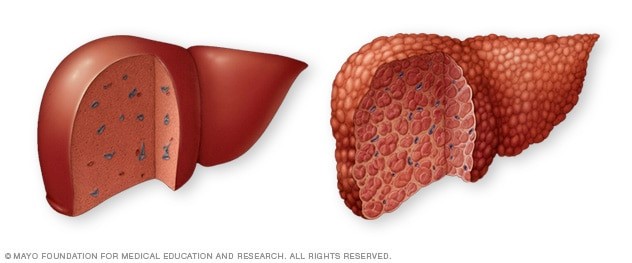 Normal liver vs. liver cirrhosis